Upcoming ASIFA Events
---
---
Summer Cel-e-bration registration now available!
Join us for our annual summer barbecue - Saturday, August 30th, 2010 from 3-??pm! Meet new friends, connect with old friends.
BEER - BURGERS - BRATS - BOCA BURGERS
Door Prizes (e.g. 1 year membership!)
BYOA (Bring Your Own Animation - DVD-VHS OK!)
---
Be sure to sign up for our Exquisite Corpse Animation!
---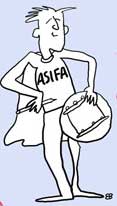 Just created a new animation? Our last reel has been show all over the world! If you've got a reel you'd like to show - SEND IT IN!
---
---
Please check out and support our sponsors!

---
---
Watch the SkillsUSA Winners
---
---