October 16, 2010
Our annual ASIFA-Colorado Summer Cel-ebration event was once again a success!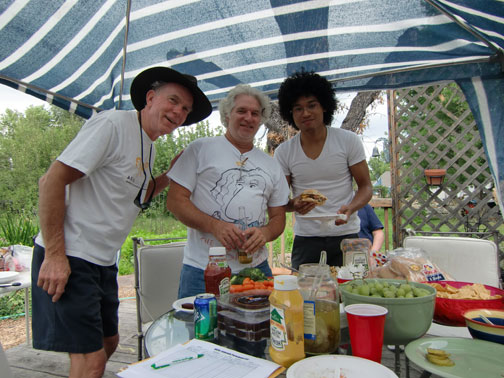 Board Member Evert Brown, Colorado Animation Legend Sam Fleming and Animator Wynn Greene (L-R)
The Summer Cel is always one of the most fun events on the Colorado animation calendar. What could be better than local student, professional and independent animators getting together to hang out, enjoy some brats and beers, share their work and have a good time? This is one of my favorite animation events of the year. It's always cool to see students chatting up pros, instructors from different schools talking shop, indie animators sharing their works-in-progress, and so many other cool things…all in a casual environment on a beautiful Colorado summer day.
Board Member Wes Price plays VJ, cuing up another animation to be projected
The weather was perfect out at ASIFA-CO Ranch in Arvada. Our BYOA (bring your own animation) segment was popular, resulting in one of the biggest screenings of local Colorado animation in recent memory. We received a few new entries for our ASIFA-CO Show Reel. New members signed up. A few lucky animators walked away with great prizes, including an ASIFA T-shirt and a 1 year membership! All that plus ASIFA provided refreshments (free beer!) and food, at a cost of $5 for non-members and $0 for members…all I can say is, I'd be sorry if I missed this one. Good thing we do it every year!
Joey Buhrer

ASIFA-CO Board Member at Large