September 30, 2011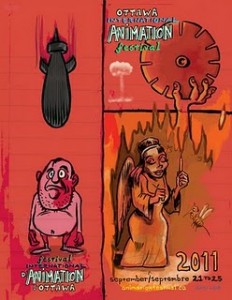 My first experience of the Ottawa International Film Festival was as a student in 2000. My animation professor, David Ehrlich, drove me and another student through the wild expanses of Canada and set us loose at what was the first film festival in our experience, occasionally checking in with us to introduce us to his big name colleagues such as Michel Ocelot, Christine Panushka, Raimund Krumme. This year, as a animation director with 6 short films under my belt, I decided I should return to the fair city of Ottawa, in search of new ideas and a community of animators. The festival was a mixture of nostalgic remembrance and novel inspiration. From this perspective, I humbly offer you a brief report on the notable films, prize-winners and a few overlooked favorites seasoned with a healthy dose of festival gossip.
Ottawa is know to be a festival on its own program. Artistic Director Chris Robinson (a.k.a. The Animation Pimp) takes a wicked pride in the fact that films that win the top prizes at Annecy often don't even make it into Ottawa. The festival definitely has a leaning towards the dark, the messy, the cryptic and the crude, but that's not to say some of the big names don't make it in. Pixar's La Luna was slated in with the International Competition, as well as Disney's The Ballad of Nessie. The sweet family friendly stories seemed to end there, however. Steven Irwin's Moxie was named the Grand Prize winner in the shorts category.  The stark, unsentimental stopmotion film Blanche Fraise by Frédérick Tremblay took the prize for Best Narrative Short and Wendy Tilbey and Amanda Forbiss' Wild Life swept up the Best Canadian Short.
Phil Mulloy's Dead But Not Buried took the feature film prize, and the grumbling from certain corners of the audience was hard to ignore. While the jury cited "its innovative way of filmmaking, bold use of minimalistic graphics, original use of sound and subversive humor" Despite the engaging script and unusual characters, I personally could not manage to sit through the 80 minutes of computer generated voices and badly draw talking heads. I would rather read this film as a book. In an interview about the film, Mulloy says his work is "a balancing act between caring and not caring, between being brilliant and being rubbish." Clearly the Ottawa jury has made their decision but considering the buzz in the theater after the announcement, the public jury is still out on this one.
I had to note that in just about every winning film, the main character dies or commits suicide. I asked jury member Jan Pinkava about this and he said the jury felt like so many of the films being made these days are addressing these issues and the jury felt bound to honor that in their selection. Incidentally, before announcing the awards, Jan said he would be taking a collection for the Canadian Suicide Prevention Hotline after the awards ceremony. Sure enough he was there in the lobby with a hat full of change and bills.
You can find a complete list of winners on AWN.com.
And now for a few of my favorites. My overall impression of the Ottawa line-up, and perhaps this reflects where the animation industry is headed, was that many films are using narrative as a vessel for showcasing wild and crazy techniques. This is not to say that story is lost, but it seems to no longer trump method. Two films that I thought retained deep and subtle story lines while maintaining a strong visual style were Dimanche, by Patrick Doyon and The Renter, by Jason Carpenter. In both these films, the main character is a small boy navigating an adult world. Doyon's character finds the obvious in the unseen while Carpenter's boyhood alter ego encapsulated the hyper-real memories of an unusual daycare provider. The Tilby/Forbiss team has come up with another amazingly lighthearted approach to a heavy subject in Wild Life. Eamonn O'Neill's I'm Fine Thanks deserves a mention (and an award for best graduation film) for its forceful design and a concise emotional arc. In true Paul Driessen style, Oeidipus turned time inside out with a squiggly line. Timber by Adam Fisher was a 1-minute crowd pleaser. Swimming Pool by Alexandra Hetmerova was a delightful film, and refreshing after the heavy subject matter of the majority. Marv Newland's CMYK is a refreshing abstract film that has enough old school style to make it feel familiar, but sharp enough in its design and animation to not be derivative.
There were several fabulous stopmotion films, but the one that sticks in my mind is  Keha mälu (Body Memory) by Ülo Pikkov from Estonia. A group of yarn-women is rapidly disintegrated by unseen forces from outside their enclosed world. This film presents a visual metaphor that can uphold many interpretations but the emotional force in the frantic unravelling of these confined creatures permeates them all
Being a shorts fan, I missed most of the feature films but did happen to catch the strange and delightful Mati Kutt's Taevalaul (Sky Song) and as much as I could handle of Mulloy's Dead but not Buried. I doubt there will be much opportunity to see these works at your local theater chain so I'm glad festivals are still the place to go for hard-to-find works of art.
OIAF is a very student friendly festival and there were several large groups of students from Canadian and American art schools moving from one event to the next as though their posse could provide some protection from their imminent future careers. Many took advantage of the career and recruiting seminars by attending the portfolio reviews by major studios and panels on how to make a success of yourself. Others, along with a handful of the more seasoned animators flocked to master classes by Gil Alkabetz, Koji Yamamura, and Wendy Tilby and Amanda Forbiss. There well some well- attended industry panels also. John Canemaker presented his new book, "Two Guys Named Joe". Pen Ward and Thurop Van Orman, creators of the Cartoon Network hit show "Adventure Time" shared their journey (and signed a few highly sought after T-shirts).
And, of course, the Animator's Picnic was the social highlight of the festival, this time with plenty of food and sunshine to satisfy even the most demanding guests. Parties are all well and good, but the casual atmosphere, open bar and fine autumn weather makes this event the best place to see and be seen. The annual pumpkin carving contest was a smashing success with some very notable designs including a pumpkin happy meal and speedo pumpkin. See Dan Sarto's photo's from the event (trust me, you'll be impressed) on AWN.com
In short, Ottawa is exactly as I remember it: so many great events and screenings that omnipresence would be a very handy skill to have. As one of the oldest and largest animation festivals on our side of the globe, it is well worth attending for the inspiration and networking opportunities alone. If you can manage to convince the Animation Pimp to show your film as well, then more power to you!