January 24, 2011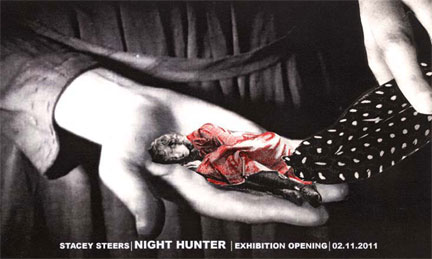 Stacey Steers – New Animated Film
Night Hunter
Exhibition Opening 2.11.11
6:30 pm │Totem (1999) screening
6:45 pm │Phantom Canyon (2006) screening
7:00 pm │Night Hunter world premiere screening
7:30 pm │Champagne reception and exhibition viewing on 4th Floor
(All screenings occur in Sharp Auditorium at the DAM)
DAM Contemporaries is celebrating a new exhibition featuring ASIFA-Colorado member Stacey Steers' most recent film, Night Hunter. The film, produced over a period of four years, is comprised of 4,000 meticulously handmade collages and shot on 35mm film. Steers' animated films have been screened at The Sundance Film Festival, New Directors/New Films Festival presented by The Museum of Modern Art, the National Gallery of Art in Washington D.C., along with other festivals and venues worldwide. Please show your support for animation in Colorado and one of ASIFA-CO's most accomplished members.
Reservations: by February 9, 2011 to 720-913-0152 or email jbrunecky (at) denverartmuseum.org.
(This event is free with admission to DAM but requires a reservation).
Exhibition on view in Fuse Box February 11 – August 28, 2011.
Music and sound design for Night Hunter by Larry Polansky.
ASIFA-Colorado congratulates our friend Stacey Steers on her new film, and we know that a large showing of ASIFA members will be present to show their support and view what is sure to be another amazing Steers animated film!